To the Seeker-Sensitive Mega-Church Fools, To the Prosperity Preachers, To all those who Sugar Coat the Gospel
Isaiah 56:10-12 His watchmen are blind: they are all ignorant, they are all dumb dogs, they cannot bark; sleeping, lying down, loving to slumber. Yea, they are greedy dogs which can never have enough, and they are shepherds that cannot understand: they all look to their own way, every one for his gain, from his quarter. Come ye, say they, I will fetch wine, and we will fill ourselves with strong drink; and to morrow shall be as this day, and much more abundant.

Cant find a Church that preaches the Truth? Your not alone anymore. You can watch SBN 24 hours a day 7 days a week via the Internet, many Cable Systems around the world, Dish network Ch.257 and DirectTV Ch.344
The Luciferian New World Order
---
---
The Invisible War & the Victory of the Cross
---
Call To Replace Social Security Numbers With Head And Hand Biometric Scanning
---
Pro-Abortion Group Rebuffs Criticism Over 'Coat Hanger' Pendant
---
Pope to Copeland: Catholics and Charismatics must spiritually unite You are witnessing the emerging One World Religion with the POPE being the head and the False Prophet!!
---
8 Women Christian Men Should Never Marry
10 Men Christian Women Should Never Marry
---
National Guard Marked With Numerous Satanic-Luciferan Cult Symbolism by US Government, Including Mark of the Beast!
---
Kidnapped for Christ the Real Facts
---
Blood of Pope John Paul II stolen in possible 'satanic' theft
---
Natalie Grant Walks Out of Grammys After 'Satanic' Performance by Kate Perry
---
Catholic Church Training More Priests in Exorcisms
---
Methodist Preacher does NOT believe what the word of God says
---
Response to the Idiocy of Bill O'Rielly he spewed on Duck Dynasty's Phil Robertson.
---
Jezebel Barbara Walters 'We Thought He Was Going To Be The Next Messiah'
5 God hating Jezebels on the View don't like Politicians Swearing Oath of Office on Bible
---
'Weird' preacher starts 'drunken glory' cult where ex-addicts snort frankincense and get wasted through the power of sermon
---
Dawn of the Luciferian Era-Part 1
Is America in the Grip of Cowardice?
Watcha Gonna Do When They Come For You?
---
Media Works To Keep Mass Shooters' Profiles Secret Satanic alter in backyard of Jared Loughner
---
'Preachers of LA' Puts Spotlight on 'Shacking Up' – Can Christian Couples Live Together Before Marriage? This is part of the current Apostasy in the church!! Merely Judas's and Jezebel's
---

Beast Tech The Mark of the Beast Book is now out. Get one!!!
---

Vaccine Inventor & Genetic Engineer Jokes About Depopulation & Biological Warfare
Edible vaccine supporter and head of the Biodesign Institute for Infectious Diseases and Vaccinology, Dr. Charles Arntzen has recently responded to questions about the issue of overpopulation with the following sardonic remarks, "Has anybody seen Contagion? That's the answer! Go out and use genetic engineering to create a better virus [to wipe out the population]". Read the rest
Deadliest substance known to man discovered ( Created!)
End game the Movie.com For the New World Order, a world government is just the beginning. Once in place they can engage their plan to exterminate 80% of the world's population, while enabling the "elites" to live forever with the aid of advanced technology. For the first time, crusading filmmaker ALEX JONES reveals their secret plan for humanity's extermination: Operation ENDGAME.
---
What do Real Witches do AFTER Halloween
---
Alert Government Program to Control Religious Thought
---
When Satan, devils and demons are 'entertainment'
---
THE DAYS OF NOAH and the "Sons of God"
Genesis 6:4 There were giants in the earth in those days; and also after that, when the sons of God came in unto the daughters of men, and they bare children to them, the same became mighty men which were of old, men of renown.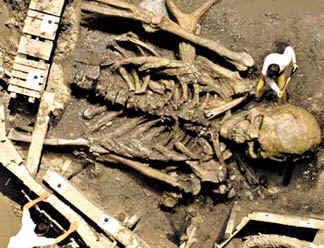 Why are pictures like this and the actual skeletons suppressed by the Media? They don't want you to know the truth. That truth is the Bible is fact.
---
The Gospel in the Stars
Long before men perverted the message of the constellations and established ancient idolatry, God named the stars and set them in the heavens for signs: "And God said, Let there be lights in the firmament of the heaven to divide the day from the night; and let them be for signs, and for seasons, and for days, and years" (Genesis 1:14). Read the 3 part series